Gyms and swimming pools have closed, club training is on hold and even outdoor training could soon be completely impossible, at least in urban areas. We will show you how to stay fit, healthy and productive during the Corona crisis.
The Corona Crisis Reaches the Sports World
The Corona crisis has the world firmly in its grip. While the curve in China is fortunately slowly abating, Europe is becoming more and more the epicentre due to the exponential progression familiar to virus infections. This has drastic consequences not only for the economy, but also for social freedom, as you have always been used to.
In order to contain the spread of the virus, fitness studios were also temporarily closed. In addition, instructions are given to avoid unnecessary social contacts and to keep their distance. This naturally includes club training on the football pitch or company sports groups.
A further aggravation of the situation by a curfew for unnecessary stays outside is also possible. But that does not mean that you cannot keep fit. We will show you how to stay fit during the Corona crisis.
Don't put your feet up
A healthy body is the basis for an active life. In addition to a diet that does not consist exclusively of pasta, white flour products and canned food, a fit body is your best bulwark in the Corona crisis.
One, to give the virus as little chance as possible of knocking you out.
And secondly, so that you can continue to invest your energy where it is urgently needed in troubled times - with your family, in your function as an important specialist in your company and as a volunteer helper with the emergency services, fire brigade and Co.
Putting your feet up would be the wrong decision here. Fortunately, you don't need a gym to stay fit during the Corona crisis. A comprehensive workout is already possible with simple equipment that you have at home anyway. If you train in a home gym anyway, you have an advantage, of course.
"The axe in the house replaces the carpenter"
True to the motto "the axe in the house replaces the carpenter", it makes sense to order some fitness equipment. Depending on your requirements, however, it doesn't have to be a weight station or a dumbbell set with an additional weight of 150 kilograms. Already with a pair of dumbbells you can achieve a lot at home thanks to the most different training forms. Elastic training bands or sling trainers for a comprehensive body workout are also very effective and affordable.
Bodyweight training in your own four walls
But it also works without dumbbells, even if the options are somewhat limited. Nevertheless, you can use classical exercises like different Push-up-, Pull-up and Squat variations achieve a lot. Also comprehensive Abdominal training is possible on the living room carpet with the body weight alone. With a little ingenuity, it even includes isolation exercises for shoulders, biceps and triceps.
Before we get to what an exemplary training plan might look like, we want to get a little creative and show you how to turn household items into training equipment. Even if these don't replace the gym, it's better than nothing during the Corona crisis.
Be inventive:
Use a stable and non-tipping kitchen chair for dips.
Load a backpack full of water bottles (or flour) and use it as extra weight for push-ups, pull-ups, knee bends and the like.
Steps and edges are an ideal basis for calf training, in order to load the muscles over the largest possible range of motion.
Perform rowing exercises or tight bench press with the help of beverage crates.
Beverage crates are also ideal for step-ups and Co.
If you have a partner, partner workouts are a good option. Here you use the body weight of your partner as resistance.
Use filled rucksacks, canisters for ironing water or other heavy objects as a dumbbell substitute for isolation exercises. This at least should remind many men that their first contact with weight training consisted of biceps curls with the school bag. Is that right or are we right?
Put together a varied workout
If, for example, you do not have the possibility to do a split workout due to a lack of training equipment, you can build a varied whole body workout from bodyweight exercises.
You can do this, for example, in the form of a circle with short pauses after each round. This also trains your cardiovascular system and strengthens the whole body. In our article "Exercises for at home during curfew" we will tell you how to put together a training plan and what the best exercises are for at home.
Home exercises in the corona crisis #stayhome
In the article "Exercises for the home in the Corona crisis" you will find 15 video exercises.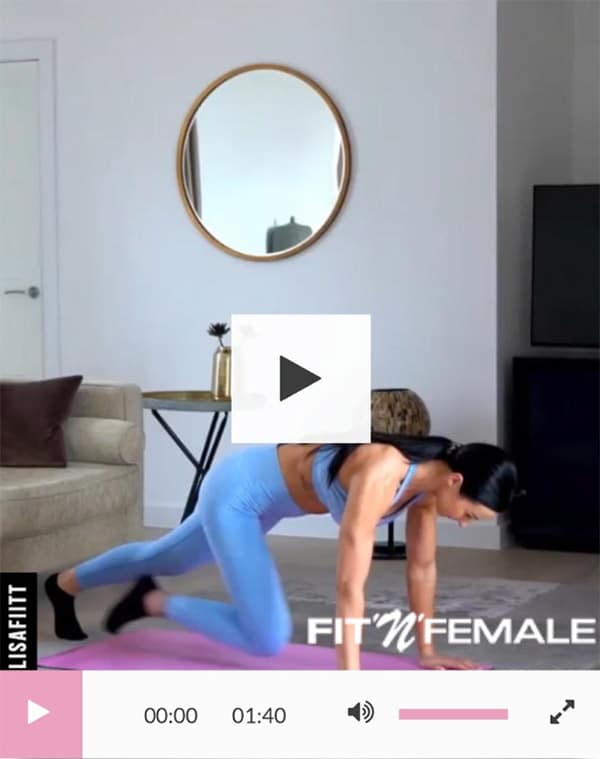 Cardio training under the sign of the corona crisis
The cardiovascular system is as essential for a healthy body as it is for a clear mind. Too little exercise therefore not only damages the body, but also the ability to think clearly and the immune system. Of course, cardio training is somewhat hampered by the restrictions that have already been put in place in some cases.
On the outside are all those who have a home trainer or a training roll to clamp their bike. Even those who own a large garden are in the clear. Even if the circuit around the raised beds is boring, it is still possible.
A practical solution for all athletes is High Intensity Interval Training, which effectively strains your circulation in the shortest possible time. How exactly this works, you can find out in our articles on the Thema High Intensity Interval Training.
However, as long as there is no general curfew and you take certain precautions, training in the great outdoors is still a good option for the head, body and immune system.
However, urban parks or generally urban areas are not suitable for this purpose. There are simply too many people in these areas and the recommended safety distance cannot be maintained.
At the moment, there is nothing against jogging in the forest or a racing bike tour on the country road. Should the situation change, please follow the instructions of the authorities and, if in doubt, move your training inside. Those who live far away in the country have a clear advantage.
Do not let your diet slide
Even if the corona crisis sometimes limits training for many, you must not neglect your diet. If you are exercising less than usual because of a quarantine or a curfew, for example, you need to reduce your calorie intake a little to avoid putting on weight unnecessarily. At the same time, however, the following still applies:
Eat as varied, healthy and high in protein as possible. Especially vitamin D-rich foods can do no harm if there is already a threat of restricted freedom of movement in the open air. You can find out why a sufficient supply of vitamin D is so important in the face of such a pandemic in our article "How can I improve my immune system during the corona crisis?
Don't worry, we know from our own experience that the shelves are still full to bursting with healthy foods such as nuts, seeds, vegetables and fish. Constantly only noodles are not very good for the line anyway. Unless you move the mass phase to spring - with summer holidays it will probably be nothing this year anyway.
Proper care at home too
Especially during this time it is important to provide your body with the best possible care. You should take a closer look at the following products.
Vitamin D3
"Vitamin D3 capsules - Micronutrients such as vitamins, minerals and trace elements are just as important to our body as the macronutrients are carbohydrates, proteins and fat."
Omega 3
"Omega 3 promotes your digestive stacks, helps to stimulate the metabolism and supports you in the regulation of cholesterol."
24 vitamins & minerals
"provides you with 12 high-dose essential vitamins & 12 essential minerals in just one capsule. Especially developed for women. Strengthen your immune system, now! »
magic mix
"Besides important vitamins and minerals for skin, hair and nails, it also contains natural, metabolism-stimulating and appetite-suppressing active ingredients! »
Conclusion: Stay fit, calm and healthy
In spite of the Corona crisis you can keep fit without any problems. And that's important, because in the current phase it helps immensely if as many people as possible have something massive to counter the virus. At the same time, we would like to ask you to take the necessary protective measures to avoid spreading the virus unnecessarily. And now let's go!
Times are serious, but not hopeless. Humor is one of the best weapons to get through hard times with a good mind. For this reason we would like to explicitly point out that this article is to be understood with a wink in some places.
Shape @Home Bundle
Stay fit at home! The Shape @Home Bundle consists of 4 high quality & very effective products. The name is literally program. Get in Shape and express! The all-round package, which focuses on fat reduction, weight reduction, as well as butt and tummy tuck, and all this from home!
Shape @Home Bundle
Shipping during Corona crisis guaranteed. Currently still without delays!