Your daily dose of magic - the strong trio for beauty, shaping, and cravings.
Our drink not only provides essential nutrients for skin, hair, and nails but also contains natural metabolism-boosting and appetite-suppressing components.
More Information
Skin, Hair & Nails Vitamin Cocktail
Mit Glucomannan als Sattmacher – 300mg pro Portion.
Garcinia Cambogia und Grüntee-Extrakt unterstützen deinen Stoffwechsel
Vitamin D und Eisen tragen zu einem normalen Immunsystem und Energiestoffwechsel bei*.
Biotin und Zink tragen zu einem normalen Stoffwechsel und zur Erhaltung von Haut, Haaren und Nägeln bei*.
Magnesium contributes to a balanced electrolyte balance, a healthy nervous system, and strong bones.
Large can, up to 50 daily servings
Delicious and refreshing - the perfect start to the day.
What is Glucomannan?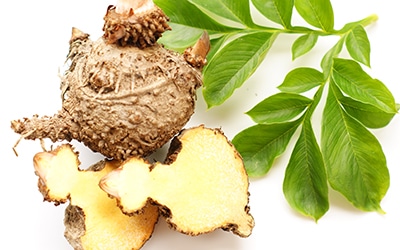 Bei Glucomannan handelt es sich um einen Stoff, der aus der Konjakwurzel gewonnen wird, die auch als Teufelszunge bekannt ist. Chemisch betrachtet ist Glucomannan eine stärkeähnliche Substanz, die sich aus komplexen Kohlenhydratketten zusammensetzt. Glucomannan trägt im Rahmen einer kalorienarmen Ernährung zu Gewichtsverlust bei. Die positive Wirkung stellt sich bei einer täglichen Aufnahme von 3 g Glucomannan in drei Portionen à 1 g in Verbindung mit jeweils 1-2 Gläsern Wasser vor den Mahlzeiten ein*.
Glucomannan as an ideal satiator
The enormous water-binding capacity of the dietary fiber causes glucomannan to swell in the gastrointestinal tract after ingestion. In the process, the substance absorbs the water and becomes a gel-like mass that can easily take on ten times its volume. Due to the increase in volume and the consistency of the mass, the feeling of satiety occurs much faster, so you eat significantly less. In addition, the feeling of satiety also lasts longer.
Specifications and usage
Weight:

0,42 kg
Ingredients:
Color: betanin, sweeteners: Sucralose and steviol glycosides, alpha lipoic acid, flavors, Garcinia Cambogia fruit extract, glucomannan, green tea extract, guarana seed extract, inulin, L-carnitine tartrate, Minerals (calcium salts of orthophosphoric acid, magnesium carbonate, ferrous sulfate, zinc sulfate, sodium molybdate, sodium selenite, manganese sulfate, chromium (III) chloride, copper sulfate, potassium iodide), acidity regulator: Citric acid, vitamins (calcium D-pantothenate, D-biotin, pteroylmonoglutamic acid, menaquinone, cholecalciferol).
Nutritional values per 100g:
Energy: 266kcal, Protein: 0.0g, Fat: 0.0g, of which saturated fat: 0.0g, Carbohydrates: 0.0g, of which sugar: 0.0g, Fiber: 0.0g, Salt: 0.00g
Nutritional values per serving:
Energy: 16kcal, Protein: 0.0g, Fat: 0.0g, of which saturated fat: 0.0g, Carbohydrates: 0.0g, of which sugar: 0.0g, Fiber: 0.0g, Salt: 0.00g
Material description:
Nahrungsergänzungsmittel mit Vitaminen, Mineralien und Glucomannan
Intake times:
1 time daily, preferably in the morning
Intake Recommendation:
Dissolve one 6 g serving (1 heaping scoop) in 250 ml of water. Take 1 time daily, preferably in the morning.
Areas of application:
Health, Skin, hair, nails, Immune system, Metabolism, Energy, Weight reduction, Satiator, Shaping
Size/Content:
300g, 50 servings
Taste:
Lovely Lemon, Pink Lemonade
Nutrition info:
lactose free, grease-free, carbohydrate-free, low calories, low fat, low sugar
Other features:
Lactation:
Pregnancy:
Product type:
Powder
The products are just insane! Am amazingly satisfied with all. Taste and nutritional value are mega and success can be seen even after a week. I am super satisfied.
Am excited about your great selection and look forward to trying the products.
Very good processing and fast delivery ? The products are super tasty. I am thrilled.
Dear FitnFemale team, I was very pleased with your delivery and the great products. I was also very happy about the small unannounced surprise in the package. Thank you very much.
Taste of the isolates are not artificial. Great company and super fast delivery Top!!!Order again and again with pleasure!
I think the store is great. The homepage is also great. Everything is explained well and understandably. That's why I also ordered the training and nutrition plan.
Great support, unique products - I am a huge fan 👍
Fast processing, fast shipping and the products are also top!
Super fast delivery would be.The goods correspond to the description. Very good stuff with it. Many thanks
The delivery is super fast. The next day the package is there. Your products are great and until now I am fully satisfied.
Very fast delivery and always trouble free!
Fast and free delivery, payment via Klarna uncomplicated, great discounts, goodies in the package - what more could you want.