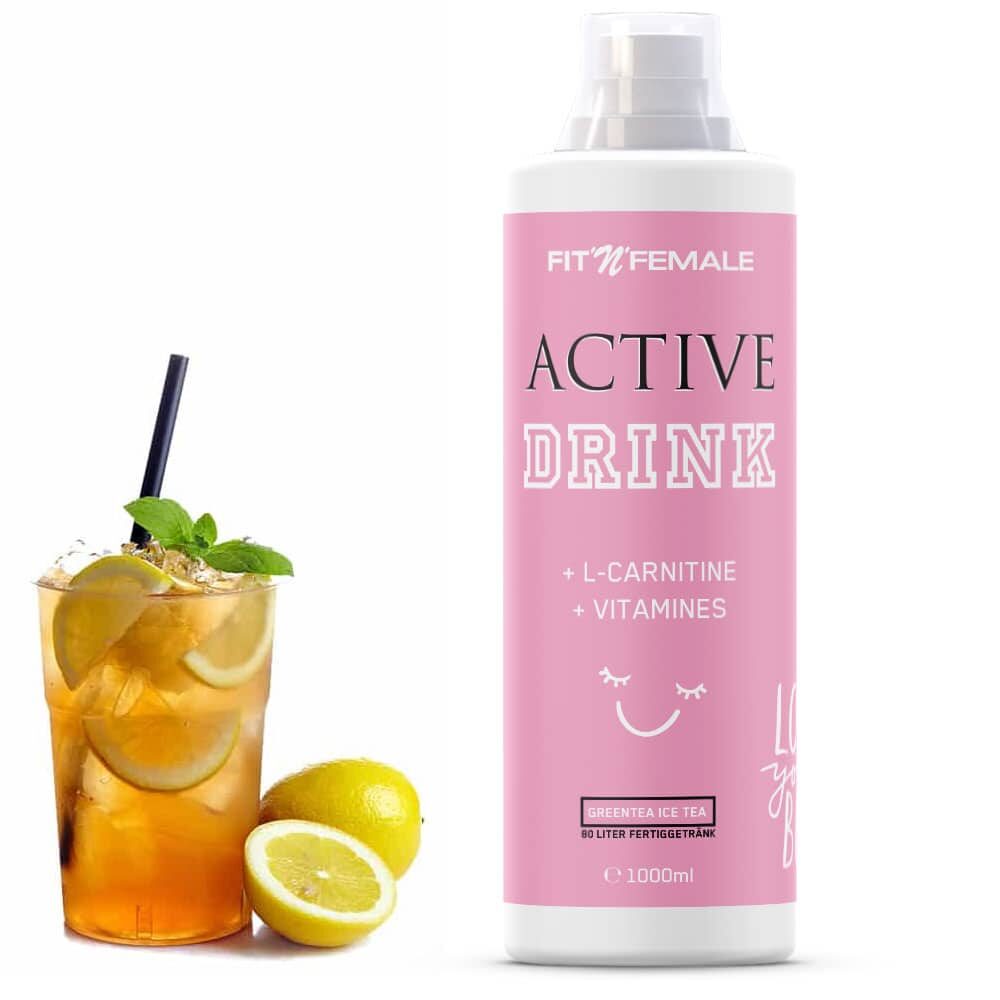 Active Drink: flavor, vitamins, minerals and more
The Active Drink is the perfect companion for an active lifestyle! It not only satisfies your daily fluid requirements, but also provides you with important vitamins and minerals to improve your performance and support your body.
A variety of flavors, such as white tea peach, pear lemon balm, elderberry, mango grapefruit and papaya grape, all of which are free from colorants
Contains valuable vitamins, magnesium and L-carnitine
Low in calories, carbohydrates, fat and sugar
Free from aspartame and glucose
Extremely economical, only a few drops of concentrate are needed per drink
Concentrate made from high-quality raw materials with 1000ml content
With one bottle (1000ml concentrate) you can prepare 80 liters of drink
More Information
The Active Drink is a perfect choice for anyone looking for a low-calorie, tasty and nutritious refreshment. Whether during a training session or in between, the Active Drink offers a real taste experience and supports you in your active life!
Specifications and usage
Weight:

1,12 kg
Ingredients:
Water, flavoring, cyanocobalamin, acidifier (citric acid), table salt, emulsifier (E471), fructose, preservative (potassium sorbate), L-carnitine (03%), magnesium oxide, nicotinamide, pyridoxine hydrochloride, sweetener (sodium cyclamate, acesulfame K, saccharin), thiamine mononitrate, thickener: xanthan gum, maltodextrin
Material description:
Beverage concentrate for the production of a low-calorie drink, with vitamins, sugar and sweeteners
Intake Recommendation:
Dissolve 6 ML concentrate in 500 ML cold water or amount as desired.
Taste:
Strawberry rhubarb, grapefruit, green apple, greentea lime, raspberry, elderberry, cherry banana with caffeine and taurine, mango grapefruit, multifruit, peach passion fruit, blackcurrant, white tea peach
Brand:
Product type:
Beverage concentrate
Size:
1000 ML
Other features:
Intake times:
In the evening, During training, In between / When needed
Nutrition info:
Areas of application:
Pregnancy:
Lactation:
The products are just insane! Am amazingly satisfied with all. Taste and nutritional value are mega and success can be seen even after a week. I am super satisfied.
Am excited about your great selection and look forward to trying the products.
Very good processing and fast delivery ? The products are super tasty. I am thrilled.
Dear FitnFemale team, I was very pleased with your delivery and the great products. I was also very happy about the small unannounced surprise in the package. Thank you very much.
Taste of the isolates are not artificial. Great company and super fast delivery Top!!!Order again and again with pleasure!
I think the store is great. The homepage is also great. Everything is explained well and understandably. That's why I also ordered the training and nutrition plan.
Great support, unique products - I am a huge fan 👍
Fast processing, fast shipping and the products are also top!
Super fast delivery would be.The goods correspond to the description. Very good stuff with it. Many thanks
The delivery is super fast. The next day the package is there. Your products are great and until now I am fully satisfied.
Very fast delivery and always trouble free!
Fast and free delivery, payment via Klarna uncomplicated, great discounts, goodies in the package - what more could you want.